590
Intervention: Restructuring the Palazzo Donghi Ponti terrace paving by creating a raised floor covering in 600 x 600 x 20 mm porcelain stoneware.
Year completed: 2018
Paved surface: 250 meters sq
Products used: Self-leveling Adjustable Floor Supports for Eterno "SE" flooring.
Supervisor: Veneto superintendent of fine arts
Building contractor: Sandro Lazzari
Ceramics supplied by FC Ceramiche of Cerea, Verona.

Eterno Ivicasupports for raised floors for an important and prestigious project: the exterior renovation of the historical Palazzo Donghi Ponti in Padua, with the reconstruction of the raised floor on the terrace. Today, this building is headquarters of the Cassa di Risparmio del Veneto – Intesa San Paolo.
250 square meters of the terrace are traversable. This project was distinguished by its irregularities and differences in level, as well as by the prestigious location. The installers managed to do an excellent job, ensuring the perfection and exceptional leveling of the raised floor consisting of 60x60 cm porcelain stoneware slabs and Eterno "SE" adjustable self-leveling supports with tilting heads for flooring by Eterno Ivica.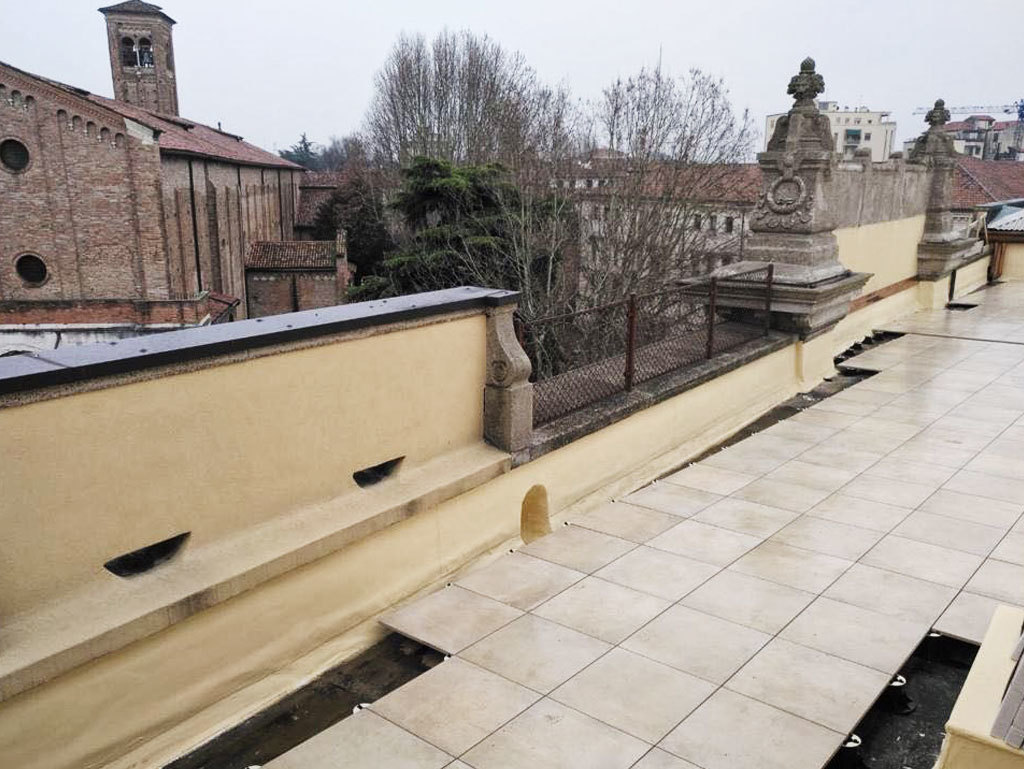 Thanks to its unmatched performance, the Eterno Adjustable Support for outdoor raised floors with tilting bi-material heads has, once again, proven an excellent solution for the high technicality of the project, ensuring an excellent aesthetic result.
Its genius is the combination of technicality, aesthetics and practicality of installation, which guarantees an excellent final result.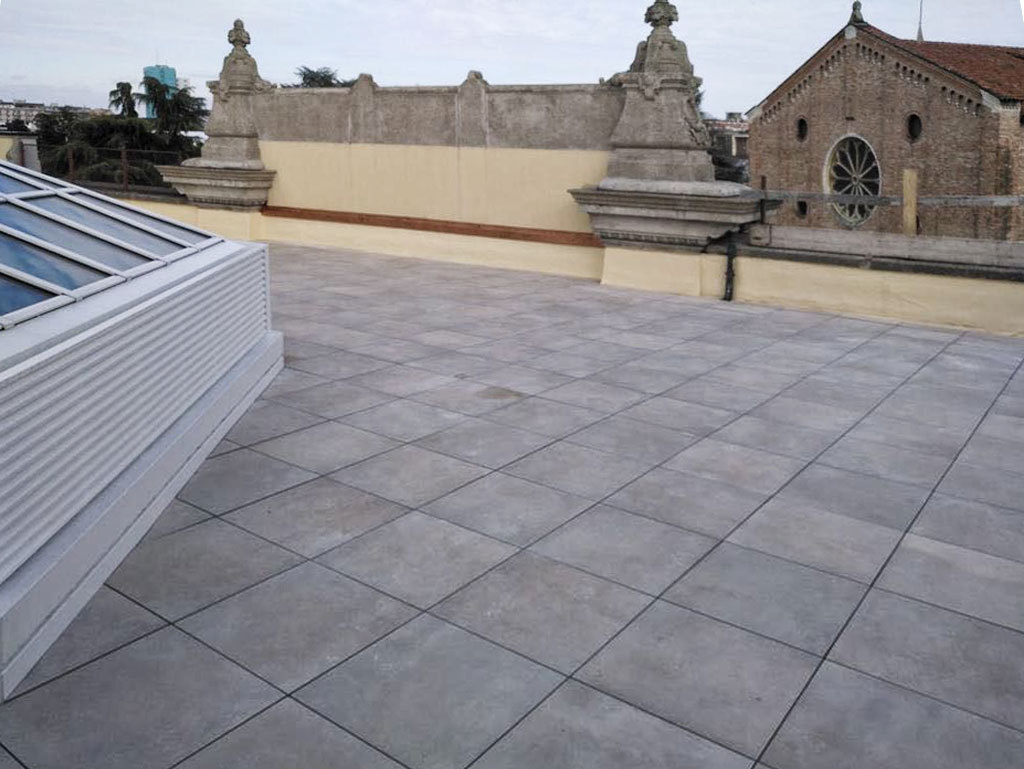 The installation was simple and fast, thanks to the high technicality of the product, which managed to overcome the various unknown factors of the sub-floor that presented themselves during installation. The most important factor, however, proved to be the the considerable abilities of the Eterno Ivica elevated system due to remarkable application and performance of the product.
The Adjustable Self-leveling Floor Support is, in fact, able to independently counteract the slope of sub-floor surfaces with a simple tilting movement of the head, which compensates for slopes of up to 5%.
Furthermore, the technical features such as the bi-material noise-free rubber head, the adjustable variable heights, and the pre-cut base with corner wall cuts, helped the installation.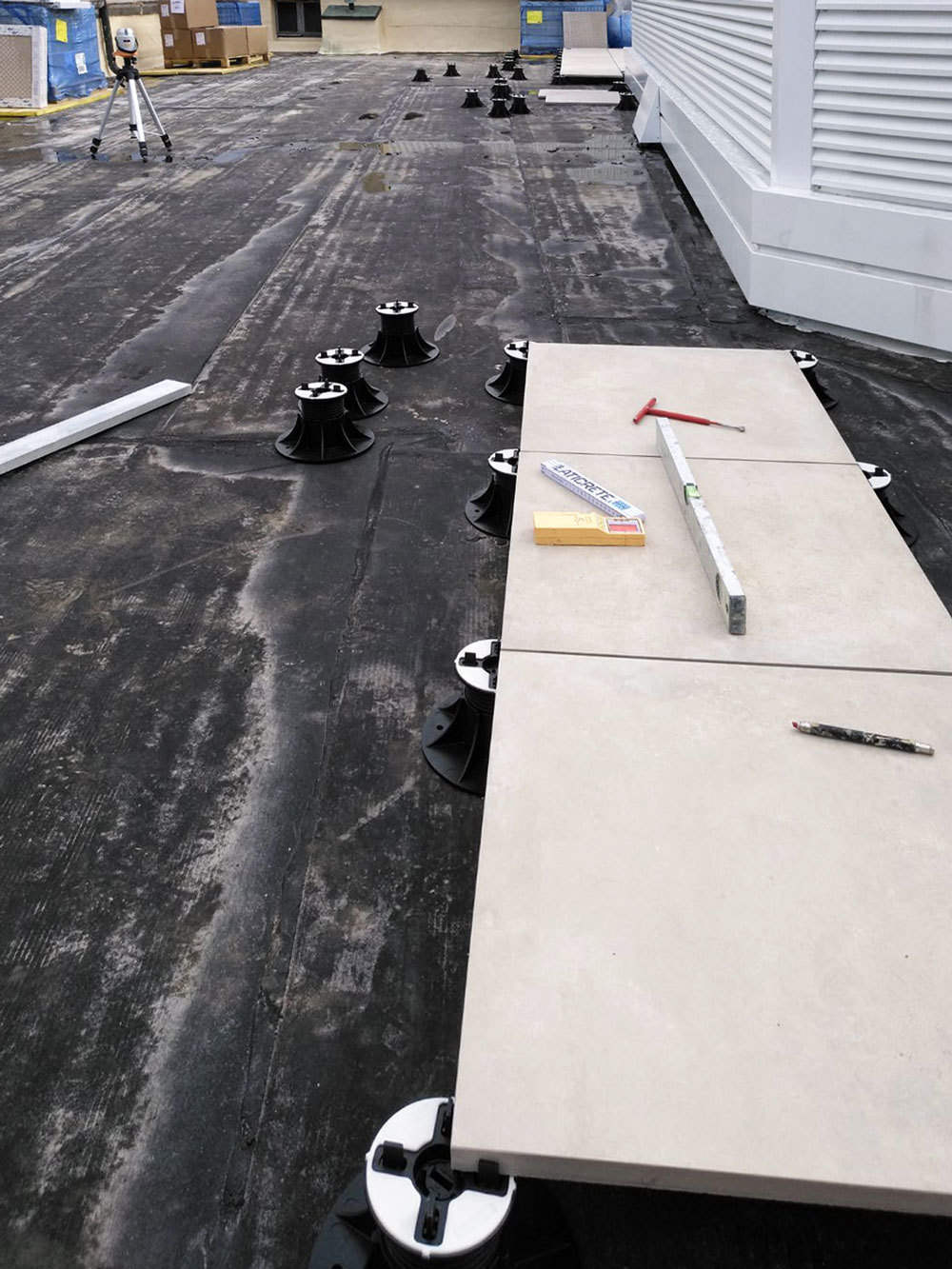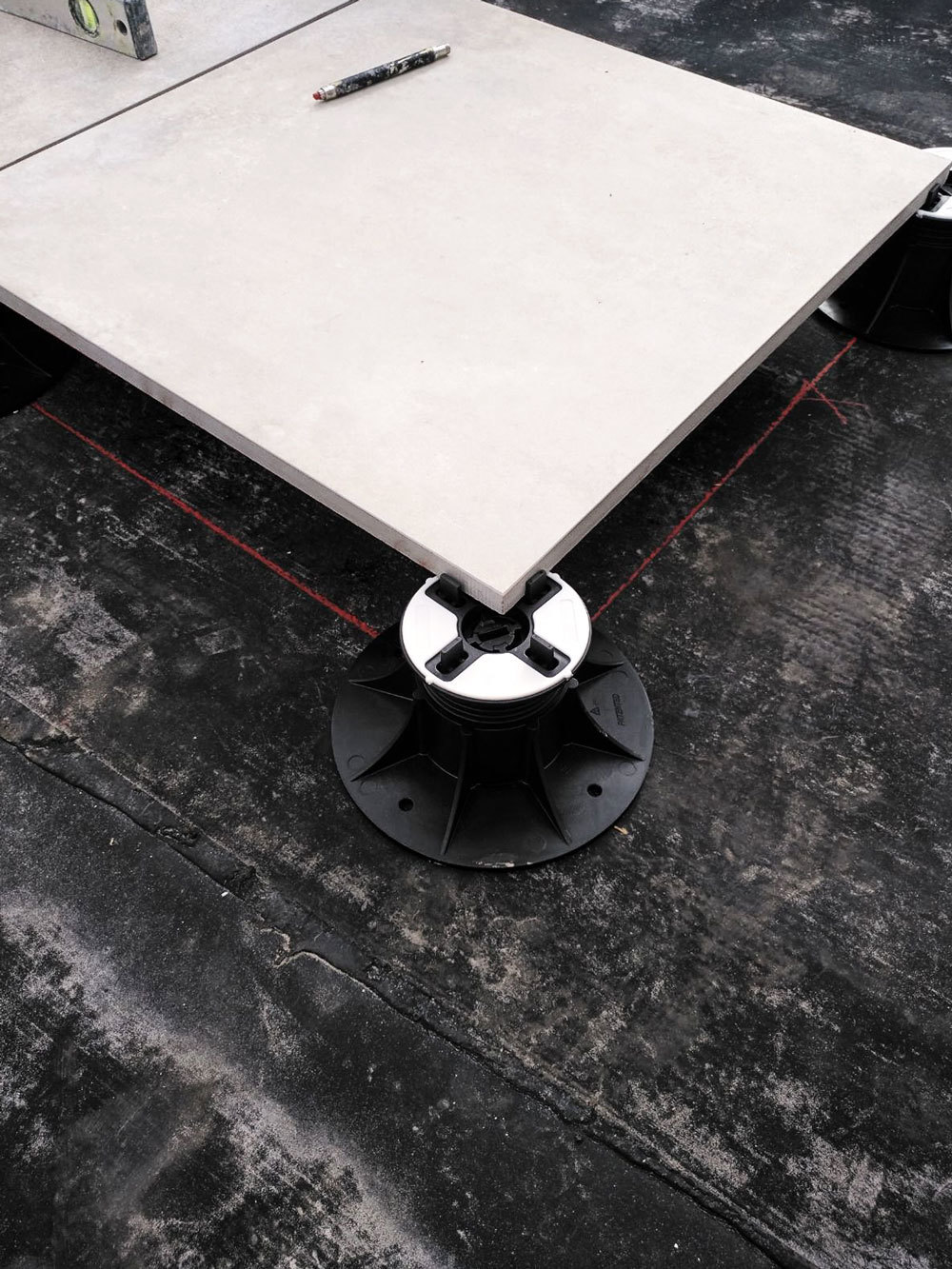 The adjustment of the support is precise to the millimeter and is done from above on the laid floor using the now famous Eterno Ivica red adjustment key, which proves indispensable for every adjustment.
As always, the Eterno Ivica supports have distinguished themselves and demonstrated the great adaptability and versatility typical of this product, now the market leader thanks to its countless applications. Many were the unknowns of this project, and yet the Eterno Ivica supports have adapted well to the needs of the client and have lived up to the prestigious project location, confirming the product's many other advantages which are continually tested by prescribers, builders and installers who every day, all over the world, use this unsurpassed system.