433
The latest majestic realization which Eterno Ivica products were chosen is the wonderful private villa located in Jesolo (VE), the tourist resort par excellence on the Riviera Veneta.
It is a synonymous of: sea, sun, a 16-km-long golden beach, holidays, relaxation and fun. Lido di Jesolo is strategically located, embracing evocative and varied landscapes: lagoon, mountains and historical and artistic cities just a walking distance from Venice.
A modern design has been chosen for the construction of this new building, combining charm and elegance.
No wonder if the Grid Raised Floor System was chosen for this new realization.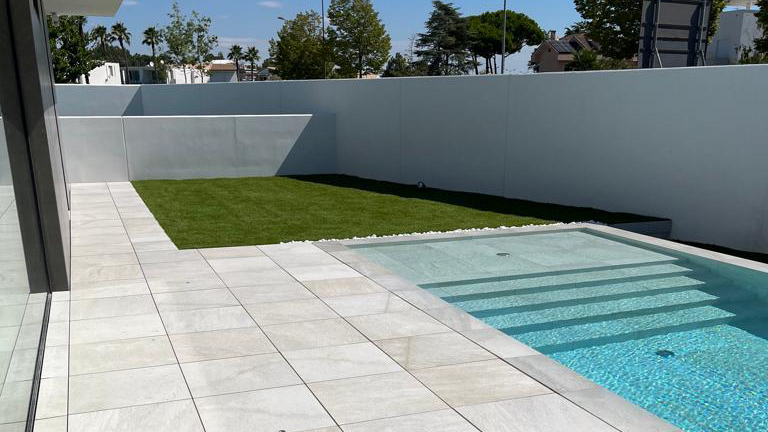 The GRF System is Eterno Ivica's new installation system that includes:
Freedom. The system allows to install slabs with customised dimensions and diagrams, enabling the combination of different finishing size. Designers and architects can enjoy greater flexibility in creating unique, customised designs.
Stability. The system provides, through the polypropylene grid, a solid and even base for laying the slabs. This guarantees the high stability and long-lasting of the finished floor.
Resilience. The grid is designed to withstand stress and deformation. This ensures a reliable, without the need of maintenance laying system.
This poolside is made unique by the GRF System, exploiting the combination of ceramic slabs and synthetic grass. Indeed, the GRF System for exterior raised floor is suitable for the application of the final synthetic grass covering. The surface area is 200 square metres, and PR2 supports were used for the project, the most elegant and quickest solution for creating an exterior raised floor.
A floor space seems like the grass of a green lawn is created. This makes it possible to create a garden, terrace or green area combined with ceramics (as in the realisation).
This Eterno Ivica's system offers a lot of advantages, visible also in this project:
The aesthetic appeal of a real green lawn,
Quick and simple installation process,
"Dry" system without the use of adhesives or chemicals,
Perfectly level surface,
Water-drainage system, preventing water stagnation
Can be installed on various types of subfloors, whether waterproof or draining,
Minimal to no maintenance required
All system components are recyclable,
Wide range of accessories available for a flawless finish, such as vertical closures and perimeter spacers.
It is the best solution for creating outdoor areas such as gardens, terraces or roofs, also offering the chance to combine the classic finishing slab with the aesthetics of a green lawn, without problems of water stagnation, thanks to the integrated drainage system resulting from the perforated structure of the grid.
 Express your creativity with Eterno Ivica!